Daily Bread
From God's Holy Word
Rev. Dr. J. Mike Howington has an online email ministry called "Daily Bread" that goes out every Mon., Wed., and Fri., free, to individuals who request it (blind copied so no one gets anyone else's address). Anyone interested in receiving the messages should just send an email to jmike.howington@gmail.com requesting it. Or, submit your email in the form below.
The following is a sample from a database containing original Daily Bread messages sent by Rev. Howington, since April of 2002:
(Constantly updating this database. Some recent samples of my Daily Bread messages are on my blog: www.jmikeh.com )
<! HTML/CSS border code: -->


This Daily Bread email message was originally sent on 10/29/2003:
John 8:44 - Scripture shortened: You belong to your father, the devil, and you want to carry out your father's desire. He was a murderer from the beginning, not holding to the truth, for there is no truth in him. . . . , for he is a liar and the father of lies.

Satan, the devil, does exist! A summary of the biblical references and empirical evidence that support that fact involves many pages. Jesus tells us, here, that his motive is murder (his revenge on God is to condemn you to an eternal death) and that his method is lying. His greatest deception is the promotion of the belief that he does not exist. A subtle tool for such a deception is the encouragement of games, folly and entertainment about him and his demons, making him a laughing matter. So, tell me: just how harmless is Halloween?

To see another example DB message just click here .


Free: Daily Bread email message on Mon., Wed., & Fri. each week

Simply tell me where to send it.

Work continues on my "Trans-denominational Bible Study" which is the multi-denominational study and commentary of each of the books of the Bible. It was started in 1994, but it might not not get finished in my life time. The Transdenomination bible also contains some of the scripture commentary sent out in the Daily Bread emails.



I completed a book (5X8 "paperback") of 52 weeks worth (one year's worth) of "Daily Bread Messages," awhile ago and self-published it on Amazon.

If you want a copy, send me an email (to jmike.howington@gmail.com ) telling me whether I should reply with the book in a WORD (.docx) or a PDF attachment.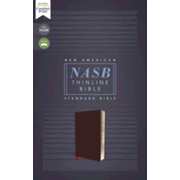 NASB Comfort Print Thinline Bible, Red Letter Edition--bonded leather, burgundy
By Zondervan


The beloved 1995 Edition of the New American Standard Bible is now easier to read with Zondervan's exclusive NASB Comfort Print® typeface. This edition of the NASB Thinline Bibles is available in a variety of sophisticated designs in a portable, easy-to-read format.
Features:

The full text of the New American Standard Bible, 1995 Edition
Exquisite, durable covers
Less than one inch thick
Double-column format
Presentation page
Two satin ribbon markers
Words of Christ in red
Exclusive Zondervan NASB Comfort Print 9 point type
&copy Copyright. This website is my own fault (Rev. Dr. J. Mike Howington)